SUCCESS STORY
Organizing control over personal tools of access to information systems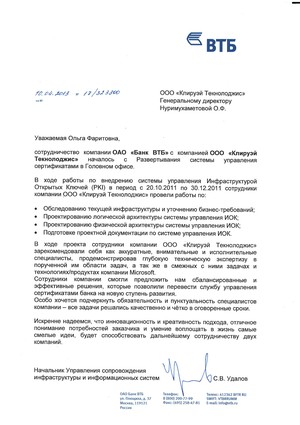 OJSC "VTB Bank" is a core financial institution, which is a key member of VTB Group and one of the leading banks of Russia. The regional network of the Bank includes 23 branches, one representative office and 108 units on the territory of the Russian Federation; abroad, the Bank operates two branches in India and China — and two representative offices in Italy and China. In 2014, the number of VTB Group's employees amounted 102.5 thousand people. VTB customer base includes about 4 thousand large corporate customers and borrowers.
In view of large and distributed infrastructure together with complexity of providing information security in terms of accounting of personal access tools, in 2011 VTB decided to start works on increasing the control over personal tools of access to information systems as well as on automating the management of such tools based on products of Aladdin and Microsoft companies.
The main project goals were:
To increase efficiency of the control over use of personal tools of access to the Bank's information systems;
To reduce time from the employee is hired till he starts working;
To increase work efficiency of administrators of the Bank's information systems.
To meet stated goals the help of reliable executor having enough experience in realizing such solutions had been required.
Experts of Clearway Integration managed to offer optimal solution allowed meeting all customer's requirements.Results of the project implementation:
Providing new employees with access to information systems has reduced by 8 hours;
Users has received possibility to solve the most routine tasks related to PIN change or data update at personal access tools by themselves that has allowed reducing the Bank's administrators load concerned with user support by 15%.
Significant approve of works quality and customer satisfaction is further collaboration of VTB Bank and Clearway Integration in other areas and directions.